It was certainly a busy weekend around here! On Friday night we went to my in-laws for my mother-in-law's birthday. Lately Nicholas has started to understand the concept of birthdays. By that, he knows you get cake! So at the beginning of last week I had told him I bought his Nana's birthday present he asked if she would share her cake with him. And then he decided he wanted to make her cupcakes. Pirate cupcakes. Don't know where that came from, but we made pirate cupcakes. Ok, so they were really Funfetti cupcakes with pirate stickers attached to toothpicks, but that was acceptable to Nicholas!
Here are a few pictures from Friday night's celebration.
Nana & her grandsons (it is QUITE difficult to get everyone looking!)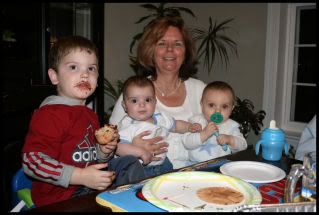 The Pirate Cupcakes-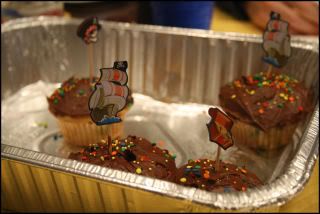 Then yesterday we headed back to my in-law's for my husband's grandmother's birthday. (I guess that would make her my grandmother-in-law, but that seems to be a mouthful!) Anyway, this was more of a surprise party. She thought she was just going out to dinner with her two kids and their spouses, but instead all of her grandchildren, their significant others, and her great grandsons were all there. As we were walking out the door to leave Nicholas got a bit upset that we hadn't made G- MomMom any cupcakes, but I assured him that Nana had bought her a cake.
It was a beautiful day- mid 60s and LOTS of sunshine! We were outside the entire afternoon, and some of the boys (Nicholas included) hopped in the hot tub. We really could not have planned for a more beautiful day!
These are a few shots from yesterday's celebration.