Yes, I have hit the 30 week mark. 75% through this pregnancy. It has seriously flown by SO fast! I think having Nicholas around has kept me occupied. Not to mention our summers are so busy that I always have something to look forward to, and I don't just think about the baby's arrival! Oh, and the fact that we still have so much to do before s/he arrives!!!
Yesterday was my 30 week appointment. I'm now going every 2 weeks, and at 36 weeks I'll start my weekly appointments. Still no real weight gain- I believe I'm 11 or 12 pounds below my pre-pregnancy weight. My blood pressure is still looking great, and the baby's heartbeat was around 140. Ken and Nicholas went with me and Nicholas had the biggest smile on his face when he heard the heartbeat. It melted my heart! He seems really excited for his new sibling. And if you ask him, it's a baby sister in my belly! I still have no gut feeling or mother's intuition, but I'll go with Nicholas' guess and say it is a girl.
I've got some shopping done for the baby, and I've gone through what gender neutral clothes I have left from Nicholas. In fact I'm washing them all this weekend! I have bought some cute boy outfits and cute girl outfits, and figure what we don't use I can return/exchange, sell, or give away.
Still no name(s) yet for the Pumpkin. We have a few ideas we're tossing around, but nothing that I would call the perfect name yet. I think I need to meet this little one first before naming him/her.
That's about all for now. Once I have Ken take a picture of me I will update. But who knows when that may be! ***8/11/08 Here's the updated pics. Sel-portraits so not great, but you get the idea!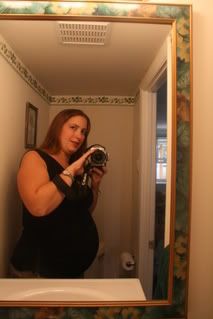 Here is a picture of Nicholas from a trip to Ocean City a few weeks ago-