Ok, we are finally home from vacation and trying to get settled back into our normally scheduled programming! Vacation was fun, but like always by the end I am ready to get home. This will probably be a long update, so bear with me!
We left on Saturday, June 14 for Walt Disney World. Being the bargain hunter I am, I was determined to find the cheapest flight available for us. Well, that turned out to be flying on JetBlue, but we had to fly out of Newark. No big deal...it really isn't all that far. So, the plan was to drive to Hamilton, take the train (NJ Transit) to Newark and fly out from there. The trip up went smoothly, and we had a nice flight to Orlando. BTW...if you havent' flown on JetBlue I HIGHLY recommend them. Spacious seats, yummy snacks (heck- even Dunkin Donuts coffee), and every seat has its own TV with 48 live channels! A 2 hour flight goes by quickly when you watch 2 episodes of Law & Order!
Here is Nicholas waiting for the train. He was VERY excited, and loved both the train & plane rides.
So, we arrive in Orlando, and get to the condo when Ken's parents and sister were already. (His youngest sister & her fiance were flying in the next day). We got somewhat settled in and then headed out to dinner. That night Nicholas didn't get to bed until 11:00- about 3 hours past schedule. Poor kid caught a second wind and just couldn't settle down!
On Sunday once everyone had arrived we headed to the Magic Kingdom. Poor Nicholas was asleep when we arrived! It was naptime, and not even Walt Disney World was going to stop him from taking that nap! It was HOT & HUMID- something I knew to expect, but still wasn't ready for! Immediately when we got inside the Magic Kingdom I bought Nicholas his first pair of Mickey Ears and got his name embroidered on them. Isn't he just a cute model?
We hit some rides (It's a Small World, Haunted Mansion, can't remember what else!) and then the traditional afternoon thundershowers came. I took cover with Nicholas and we got to see Woody & Jessie and some other Toy Story characters, while Ken went with his siblings to ride Splash Mountain. The rain eventually stopped and we ended up getting on the carousel, or as Nicholas would say, the cows! We then went back to the condo, cleaned up, and headed to Universal Studios to have dinner at Bubba Gumps for Father's Day.
Monday morning was our early morning- we had breakfast at Chef Mickey's at 7:00am. At first Nicholas wasn't too sure of the characters, but then he really got into it. I'd say his favorite was definitely Donald Duck. He got some kisses from Minnie Mouse, but wasn't too thrilled.
After breakfast it was back to the Magic Kingdom. This day we took the train (which made for a VERY happy Nicholas) over to Toontown. They had a fun little play area where Nicholas could burn off energy, and then Nicholas went with Daddy and Nana on Goofy's Barnstormer- a fun little roller coaster! Nicholas sat with Daddy in the first car, and despite holding on for dear life he loved it, and cried when it was time to get off!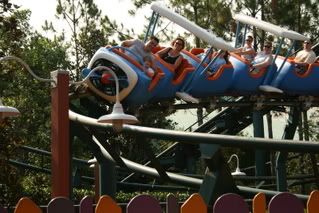 We hit some more rides: I took him on the Tomorrowland Indy Speedway- a big hit, and we also rode on the Mad Tea Party and the Many Adventures of Winnie the Pooh. By this time it was close to noon and we headed back to the condo. Nicholas needed to catch up on sleep and took a 3 hour nap (which mommy was more than happy to join him in!) After a quick dinner at the condo we headed back to the Magic Kingdom for the Spectro Magic Parade (very cool) and fireworks. This was Nicholas' first time seeing fireworks, and despite being a little bit afraid he really liked them. Now he tells you the fireworks go BOOM!
Tuesday was our day at EPCOT. We rode Spashship Earth, Innoventions, and Journey Into Imagination before heading over to Germany's Biergarten for lunch. Biergarten was super yummy (I think it was my favorite meal of the week) with lots of traditional German food. I definitely ate like I was eating for two! Here is a picture of Nicholas after lunch- notice how he's pushing his stroller full of everyone else's stuff! lol
After lunch we checked out the Nemo ride, and then walked around the little aquarium area they had. Nicholas was so fascinated with all the fish- we've decided we definitely need to plan a trip to the aquarium with him this summer!
It was back to the condo- Ken took Nicholas in the pool, I took a nap. We had some snacks and went back to watch the fireworks at EPCOT. I wish I would have explored more of the countries at EPCOT, but I guess that just means I'll have to go back another time!
Wednesday was our day at Disney Hollywood Studios. Personally, it is my least favorite park. I was also feeling VERY sick this day- the heat and all the walking caught up with me, and I had an awful headache (which I think was just high blood pressure.) Anyway, when we first arrived it was lunchtime and we had a character meal at Playhouse Disney at Hollywood & Vines. Nicholas had a blast and was in love with June from Little Einsteins. After lunch we split up and I took Nicholas to see the Playhouse Disney show, which he loved, and after that he proceeded to pass out. I took the opportunity to take shelter in the shade under some cover- just in time for the afternoon's thunderstorm. Shortly after we left the park and I took a well-needed nap.
Thursday was our day at Animal Kingdom- my first time in this park. It had a lot of shade, which was nice. We went on a safari, which Nicholas loved...he pointed out all the giraffes and elephants. We also saw the Little Nemo musical, which was cool (to see, and to be in the air conditioning)- even Nicholas sat through the entire 35 minute performance. That night we went to the Spirit of Aloha luau dinner at the Polynesian. Nicholas was loving the hula dancers- I will have to upload video of him doing the hula!
Friday was our last day in Florida, so Ken & I decided to take Nicholas back to the Magic Kingdom to ride his favorite rides- the carousel, Dumbo, and the carousel a few more times! We had to leave the park fairly early, but we did have a good time.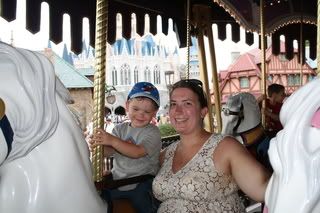 Our trip home was- eventful. The flight home was pretty smooth, although Nicholas was fussy at points. We landed, got our luggage, and headed to the train station. Where we proceeded to get on the wrong train line coming home. We got on the shore line instead of the line to Trenton. So we had to back track and switch trains twice, and that delayed us about 90 minutes. Poor Nicholas was strapped in his stroller and didn't fall asleep until 11:00pm, and we didn't get home until about 1:30am. We were very glad to see our bed!
Overall the trip was a blast, and we're already planning for another vacation in the fall of 2010 once the new baby is 2!