On Tuesday we headed to Magic Kingdom in the early afternoon after relaxing at the pool in the morning. When we arrived it was shortly before the afternoon parade, so we quickly grabbed a good seat to watch. The boys sat in the shade of the stroller, but were right at the curb, so several of the characters came right up to them!
After the parade we headed to Tomorrowland where we got in line for Monsters, Inc. Laugh Floor- we needed the air conditioning! Nicholas enjoyed the show and Erik was all smilesas well. Next up was Buzz Lightyear's Space Ranger Spin, which I would say became Nicholas' favorite ride. I think he rode this 3 or 4 times while we were there! Upon exiting the ride I spied Buzz Lightyear himself. I got in line with the boys and both of them were VERY excited! Erik doesn't know many Disney characters, but he knows "Buzz Buzz!" And I had just taken Nicholas to see Toy Story 3 the day before our trip, so he was pumped!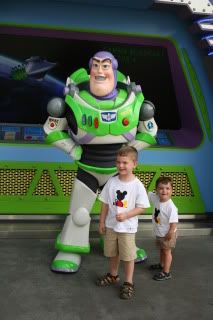 We then spent a few more hours riding a few more rides before our dinner at Cinderella's Royal Table. Yes, all the young children in our party are boys, but my sister-in-law Megan and I decided we wanted the princess dinner! And in my opinion- TOTALLY worth it! Upon entering the castle we were greeted by Cinderella and our entire group had our picture taken with her. Then throughout our meal we had visits to our table from Belle (Beauty & the Beast), Aurora (Sleeping Beauty), Ariel (Little Mermaid), and Snow White.

And the meal itself- absolutely delicious! I had a BLT salad followed by prime rib (which was cooked perfectly), grilled asparagus, and roasted potatoes. Despite this being one of the more expensive meals, I do feel that the quality and quantity of food was worth it. I would dine there again, and hopefully one day I will have a little girl to enjoy the princesses with!